Role:
Graphic Design Intern
Schilling Hard Cider LLC
Seattle, WA
Apr 2019 - Apr 2020
Scope:
Marketing
Brand Strategy
Illustration
Team:
Julia Childress, Chief Marketing Officer
Graphic Design Internship
This was a remote graphic design internship where I worked closely with the Chief Marketing Officer at a growing cider company in Seattle. The projects included a range of branded material, event flyers, posters, and signs that were used in the physical cider house and/or were printed and put in stores. I also worked on a range of custom material including merchandise, such as T-shirts, clothing, growler designs, illustrations, and even a variety of hypothetical visual directions for a new unreleased product. My responsibilities were to effectively communicate with my supervisor regarding my progress, track my hours, apply feedback, ask good questions, and deliver high quality work with a quick turnaround.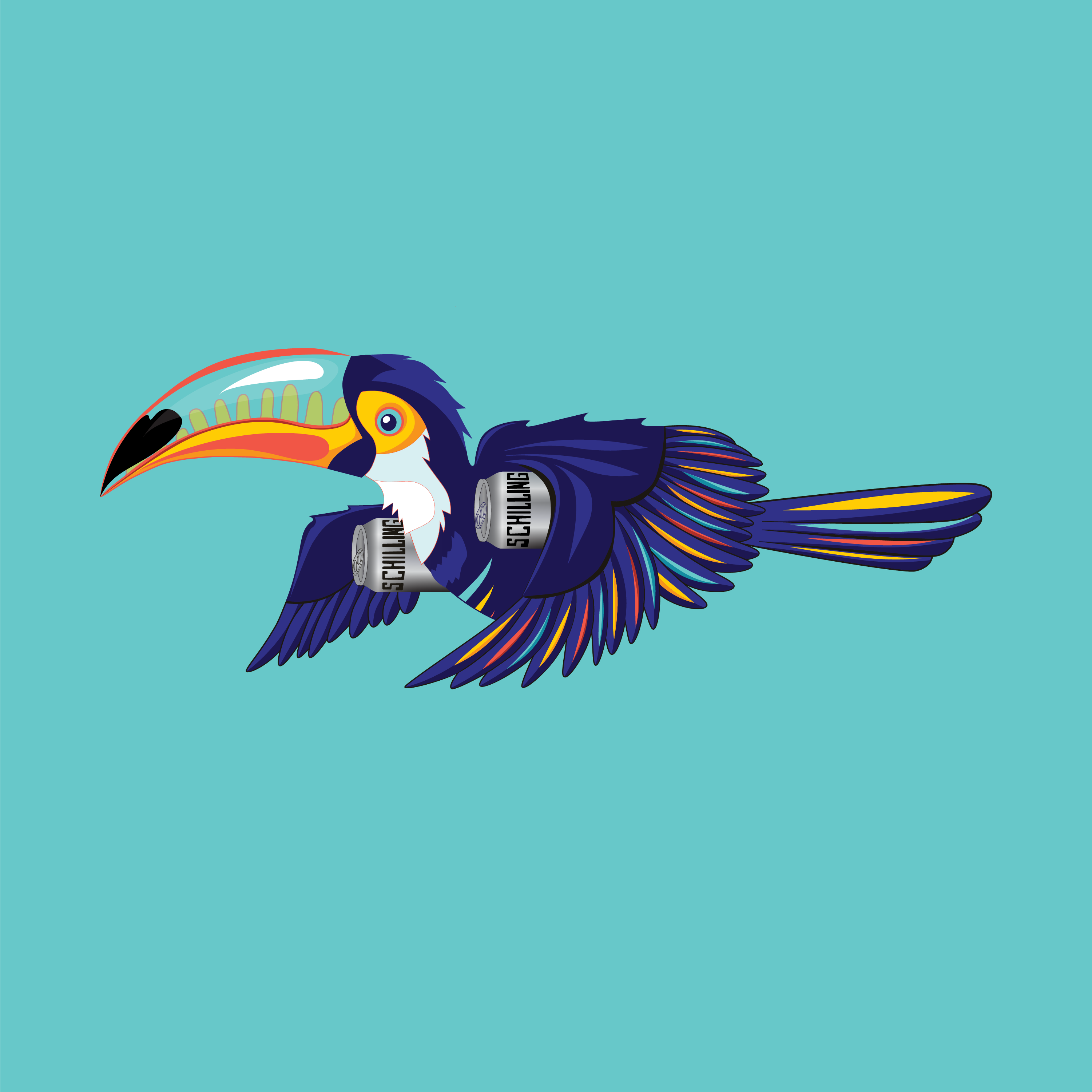 ---
Event & Product Flyers
These are a few examples of event and product flyers I designed. I was given the information to include, and from there took whatever liberties I wanted as far as layout and imagery. I could exercise conceptual creative freedom within the constraints of the preestablished Schilling brand identity.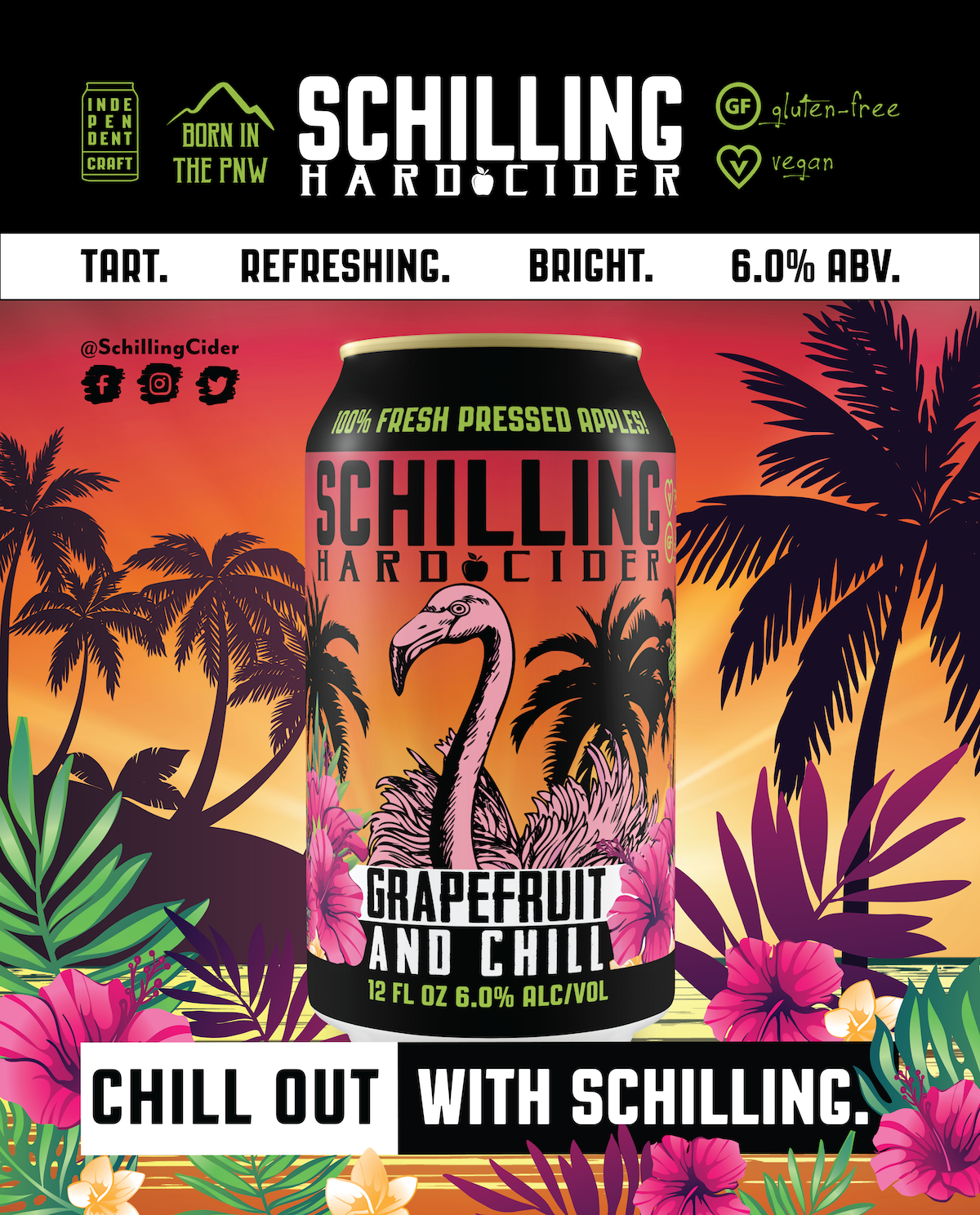 ---
Branding for a hypothetical
new product
For this project, I was tasked to design 3-10 possible visual directions for a new product that is not yet on the market. They were looking for something simple, yet colorful and eye-catching. These are quick, initial concepts.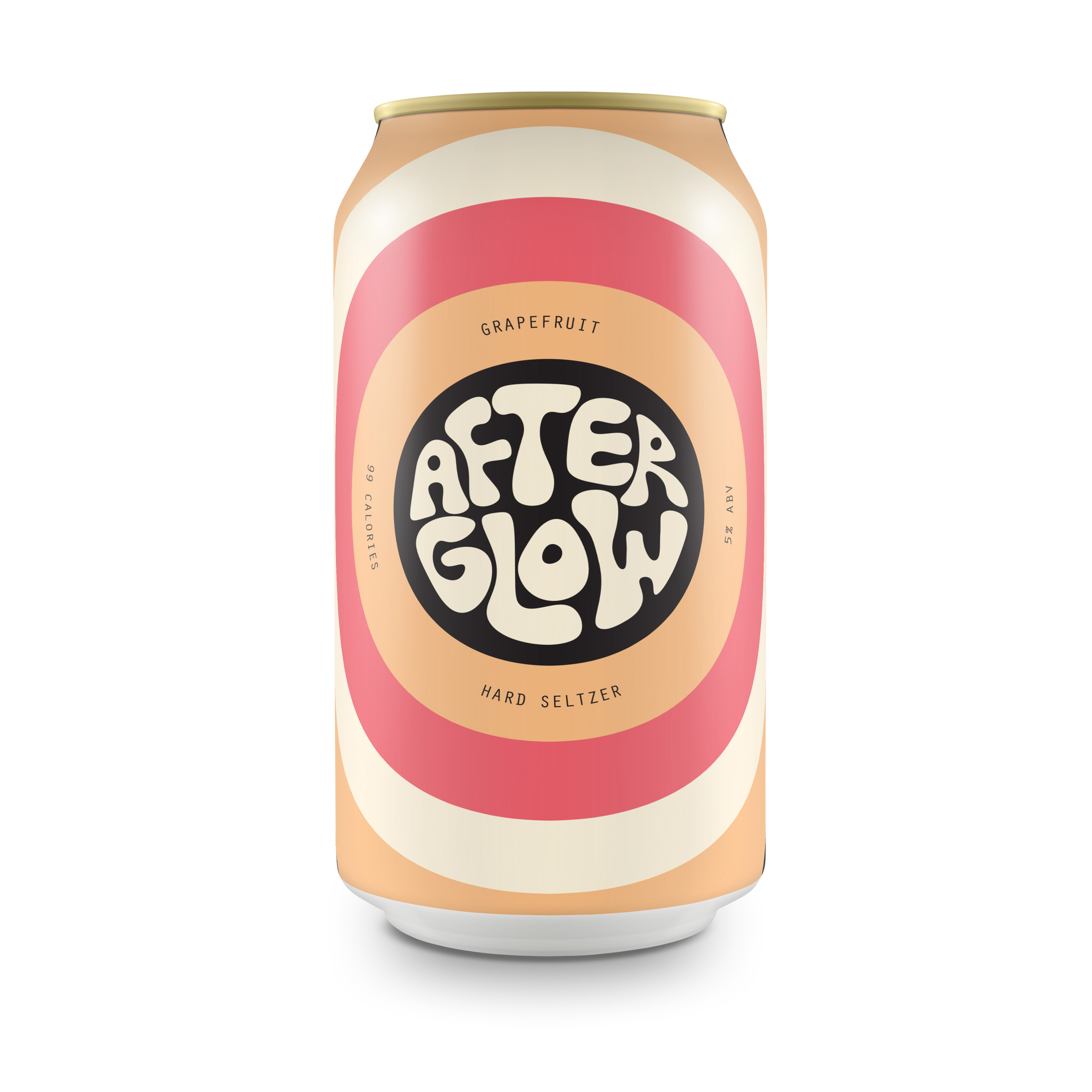 ---
Fremont, WA &
Portland, OR
For this project I redesigned the two location-specific cider house designs to be printed on t-shirts and growlers, one for Schilling's Fremont location, and one for their Portland location.

For the Fremont design, I was required to include the Seattle skyline, an apple, and Mt Rainier.

For the Portland design, I was required to include the Hawthorne bridge, roses, and the white stag sign.

I was given complete creative control and was not required to adhere to any one style or guidelines outside of the imagrey requirements. Here is what I came up with.
These were the old designs: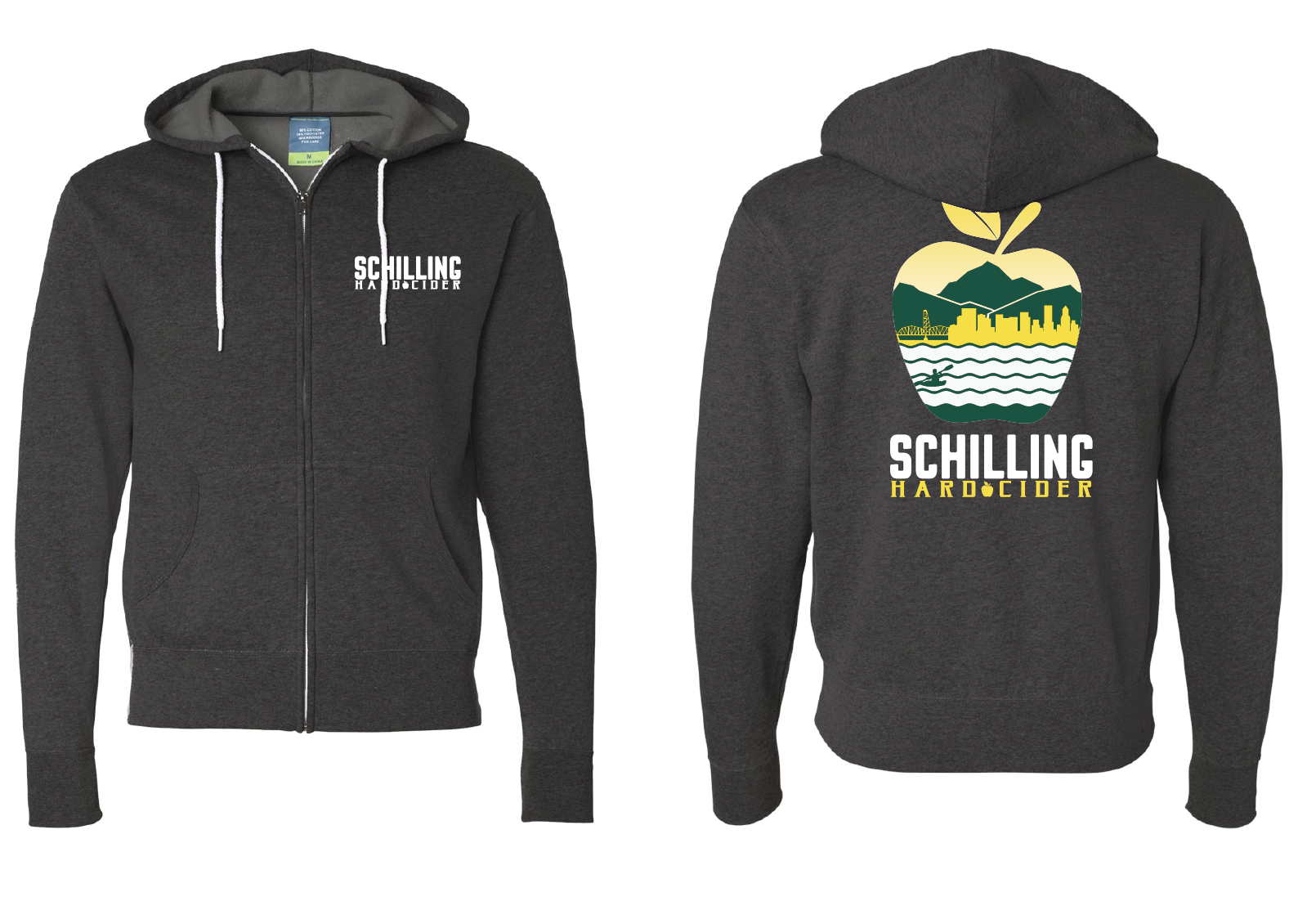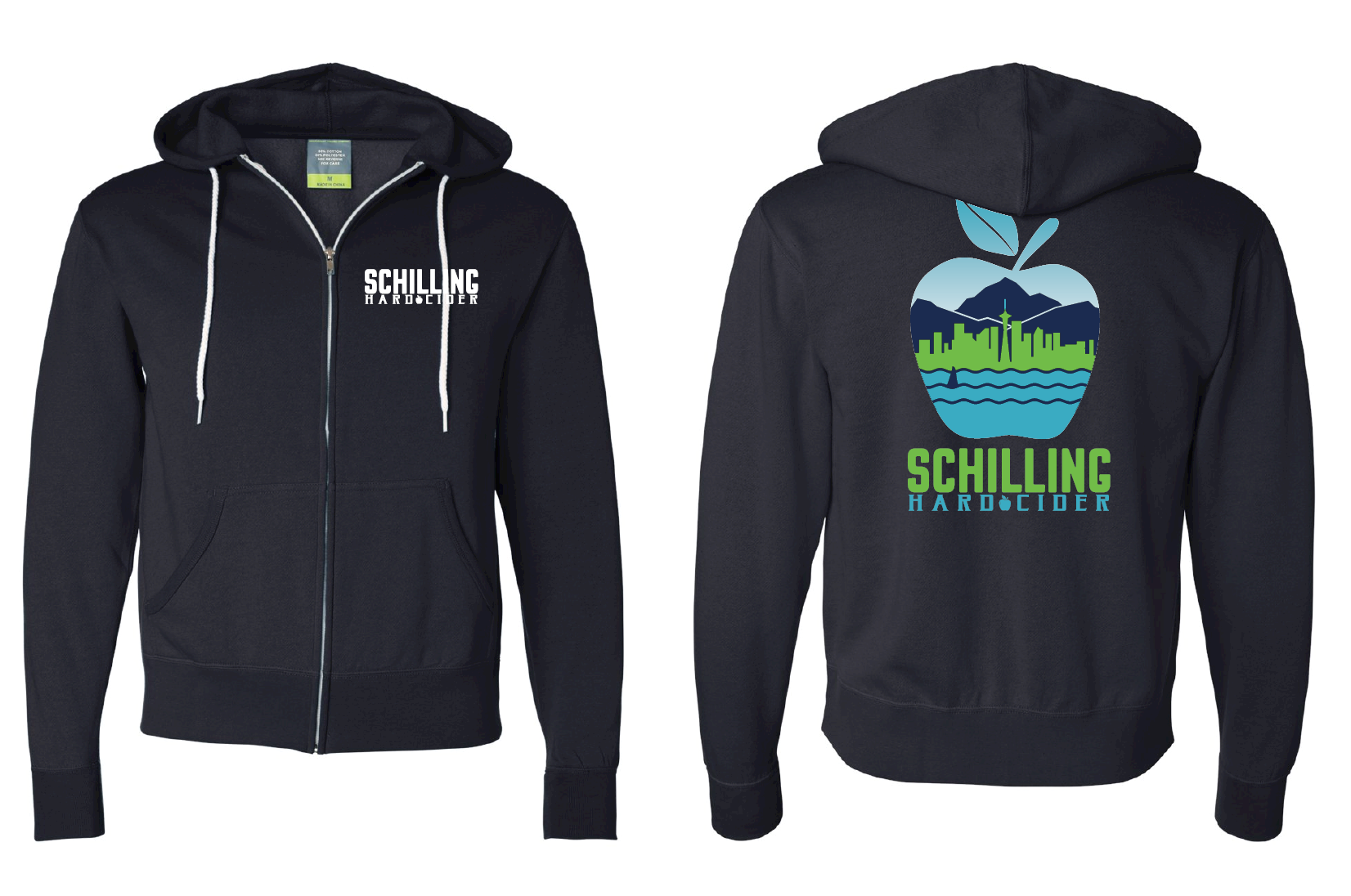 ---
Custom Toucan Illustration
This project was one of several custom illustration projects. Animal mascots are a big part of the Schilling brand identity and through this internship I got the chance to hone my character drawing skills.

This project was a custom illustration for a T-shirt. I was tasked to recreate an existing Schilling character (Twocan the Toucan) to be flying with two cans under his wings.